SEFIK GUL COMMUNITY CENTER of CULTURE
Recent years have witnessed the business community connect closer with the cultural scene. Dedicated to the protection of cultural heritage, Gülsan acts as a conscious body on cultural matters, all within the framework of social responsibility. In this regard, an Ottoman Mansion dating back to 1830 has been designated in the Southeastern Turkey. Reminiscent of Ottoman architecture, the restoration of this proud and beautiful example of Ottoman heritage took one year to complete(2005). Restored with high sensibility to its original structure and appearance, the mansion serves as a Community Center of Culture, in partnership with CEKUL (The Foundation for the Promotion and Protection of the Environment and Cultural Heritage). This restoration is a part of a larger program called "The Cities Protected".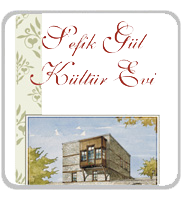 Sefik Gul Community Center of Culture
( download )

Visiting times:

Open Everyday between: 10:00-12:00 13:00-17:00

Closed on Mondays.

(Closed on the first and second days of Ramadan Feast and Feast of Sacrifice. Dates subject to change.)

Entry Free.