KOMURHAN BRIDGE and TUNNEL PROJECT
The Komurhan Bridge is being built on Karakaya Dam Reservoir across the Euphrates River in Southeastern Anatolia. This project will construct a bridge and a tunnel with a 2x2 lane road of 5.155 meters. In technical terms, Komurhan is a cable-stayed bridge, a modern and functional structure, optimal for longer spans similar to the suspension bridges on the Bosphorus in Istanbul.

The existing 1x1 old bridge and crookedly connected roads will be preserved. The new bridge and the tunnel will be developed next to the existing route. Once this new bridge is built and operational, the commuting time on the Elazığ-Malatya Motorway will noticeably shorten.

The bridge aims to offer both a faster journey and a stunning view for the future. The four-lane, 660 meter bridge contains a 380 meter span with a single pylon of 165 meters of height. This varies from the Nissibi Bridge, another cable-stayed bridge undertaking of Gulsan's. The deck cross-section will be orthotropic steel, while the superstructure of the bridge will be connected to the pylon with 42 tensioned cables.

With these features, the Komurhan Cable-Stayed Bridge applies new technologies for the Turkish Construction Sector. The majority of the engineering, technology and manpower are locally supplied. In addition to the bridge, a tunnel-with 2 tubes of 2x2 lane 2400 meters in length each-and a 3-storey police station building with 1200 sqm closed area, are being constructed within the scope of the project.
Client:
General Directorate of Highways
Location:
Malatya – Elazığ Road – Turkey
Construction Period:
40 months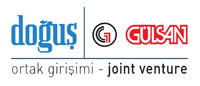 PROJECT MAIN QUANTITIES

Earthworks
Concrete Works
Reinforcement
Steel Works
1.750.000 m³
180.000 m³
6.000 ton
6,650 ton
Cable (strands)
Post-Tensioned Steel Works
Plant Mix Sub-Base and Base
Bituminous Hot
Mix Asphalt
920 ton
210 ton
120.000 ton
73.000 ton